Our incoming phone lines are open 10.00am to 1.00pm and 1.30pm to 3.00pm, Monday to Thursday only, however, we are all here working full, normal hours, i.e. 9.00am to 5.00pm Monday to Friday, so if you need to email, or leave a voicemail, we will gladly respond promptly.
Our Ercol Furniture Upholstery & Furnishings Recent Customer Orders Gallery
Below are a selection of recently completed Ercol Cushion customer orders. For a larger selection of completed order images, please visit our facebook page.
"We have just received the finished cushions for our Ercol chair, and we are so pleased. You have done an amazing job. The pattern must have been tricky to deal with and match up, but you have done that beautifully. We wanted to cover a beautiful piece of furniture in a contemporary fabric, and this has been achieved, it looks fabulous. We previously had an ercol day bed covered by a professional upholsterer, but it was not done to such a high standard as yourselves, which is why we decided to choose yourselves, who know and understand the beauty of Ercol.
Susy and Martin Higgins
Somerset
N.B. Upholstered using customer's own supplied fabric.
"The new cushions for our Ercol suite are beautifully made, and there was a huge selection of fabrics so I was able to get just what I was looking for. Everyone was so helpful - from sending fabric samples to checking exactly what models of cushions we needed. The whole process of sending in my cushions and getting the new ones back was very well organised and so easy on my side as they were couriered both ways. I am sure these cushions will last many years and will definitely be returning as a customer when the time comes"
Deanna Nicholson
West Sussex
"The cushion is beautifully made and fits my Ercol chair perfectly. They make an effort to get everything right by sending fabric samples and also asking for a photo to confirm the chair to be dealt with. All communication was friendly and efficient and as a bonus, the cushion arrived about 6 weeks ahead of their predicted completion date."
Rose Hill
Isle of Skye
"Hello, my Ercol sofa cushions were delivered today and this is just to say you have done a wonderful job. I am so pleased with the material I chose, it blends in with my existing furniture. The service you provided was very professional and I will have no hesitation in recommending you. Please pass my thanks on to all your staff. Best wishes."
Mrs D Springall
Wiltshire
"Thank you for the new cushions received on Monday. I am delighted with them. A big thank you to your skilled crafts people for the excellent workmanship put in to have a finished product that has completely rejuvenated our chairs and sofas. Even though we are far from local to you (near Edinburgh) you made the whole process so clear, straightforward and easy. Many thanks!"
Gill Turto
Edinburgh
"Love my new cushions made for my Ercol tub rocking chair. I also have a 2 seater Ercol settee and will be using this company to provide the cushions for that. Great quality, good fit - we worked with paper templates as I did not have any original cushions to provide to make replacements. Friendly staff."
Angela Gee
Stockport
"As requested, please find images showing my Ercol Windsor chairs with their smart new cushions and secondly the good fit of the studded webbing. Thank you for a splendid job on the eight cushions. For info, the dresser in the background was made by Ercol as well."
George Davis
County Wicklow, Ireland
"We've had our newly upholstered ercol Jubilee cushions for a month now and we absolutely love them! We had been saving for about 7 years to get them done and it was worth the wait. Everyone has commented on how bright and lovely they look and how neat the craftsmanship is. The extra buttons were a great surprise and even the delivery drivers that delivered them to us on the other side of Bristol were so friendly. We really are thrilled with them and would recommend your services to others. Thank you, Merry Christmas"
Gemma & Mike Gardner
Bristol
"Fantastic company, workmanship superb, attention to detail faultless, pattern matched, quality exceptional and I won't go anywhere else for Ercol cushions and covers. I am so pleased with my dear late mother's Ercol Rocking Chair that her and my late Dad struggled to purchase in the 1950's after the war when money was short and working hours long. Thank you Bristol Upholstery for being No.1 on the grid on Google."
Christine Fairbrother, 5-star Google Review
"I am absolutely delighted with my re-upholstered rocking chair and am using it regularly to read or relax. I have had this chair probably since about 1974 when I was 15 and my parents bought it for my bedroom. It has moved with me over the years, sometimes at my house and sometimes at my parents depending on needs, but has recently been relegated to a spare room due to its sorry state, covered with a throw. It is now back in my living room and being enjoyed again, and everyone who sees it comments on how good it looks. I am sure it will have many more years use and is already a favourite with my grandchildren."
Alison Sheppard
Bristol
"So pleased with my new Ercol cushions and covers."
Sheila Burrow
Kent
"I am sending a photo of the lovely cushions you made for my Ercol chairs.  As I have said before I am very pleased with them. Thank you."
Vivienne Lucy
Kent
"Thoroughly recommend the service and skilled work from all at Bristol Upholstery. Huge range of fabrics to choose from along with friendly helpful staff. We just love our 'new' sofa!"
Nicola Solomon
Clevedon
"We just wanted to write to say thank you for the wonderful job you did of making our new seat cushions for our Ercol dining set. We were wanting to get the cushions replaced for quite some time but weren't sure where to go. Our new cushions are comfortable and have a fresh modern look which fits our dining room. We would definitely recommend you to others!"
Andy & Jenny Roberts
Clevedon
BEFORE
AFTER
BEFORE
AFTER
"To say we are pleased would be an understatement. Splendid cushions for our Quaker chairs – expensive but worth every penny!"
Jeff Stamatakis
Vale of Glamorgan
"Dear All at Bristol Upholstery, Just a few pics of the wonderful chair cushions you made for us, shown in situ. Needless to say we are delighted in what you have achieved. This has not gone unnoticed by our friends and relatives. Again, many thanks"
Bruce and Sue Grant
Devon
"Many thanks for a good job. Here are pictures of one of the chairs with the cushions in situ."
Karen Mautner
London
"Thank you so much for reupholstering my Ercol Jubilee sofa's cushions so brilliantly - you've done an excellent job and they look wonderful on the frame! I've had many compliments about how great they look and have recommended you to several people. Thank you again for your hard work (it can't have been an easy one)!"
Joss Waterfall
Dorset
"Thank you for producing such a striking cushion. We are delighted with it."
Ian Cargill
Aberdeen
"Bristol Upholstery were recommended to me by ERCOL as they no longer made replacement cushions for my 1975 Windsor chair which had been a Ruby wedding present for my parents. This was no problem for the company, who helped me with the selection of a very contemporary fabric, used my old cushions so the new ones are so perfectly and professionally made. The workmanship is superb and very high standard. I can't thank the staff enough for their friendly help throughout and am so thrilled with the new cushions which look amazing. The ordering procedure is particularly impressive with the efficient organisation of borrowing the old cushions for accurate replacement and the fast delivery of the completed order. I cannot praise Bristol Upholstery more highly. Thank you."
Suzanne Shallcross
Anglesey
"Thank you for the swift return of our much loved Ercol cushions,​ re-covered to perfection. Hope the attached photos will show other potential customers how good your workmanship is. No, you are not the least expensive, however, it would be a shame to use less quality fabric or inexperienced workmanship on our furniture."
Lynn Pickering
Burton Upon Trent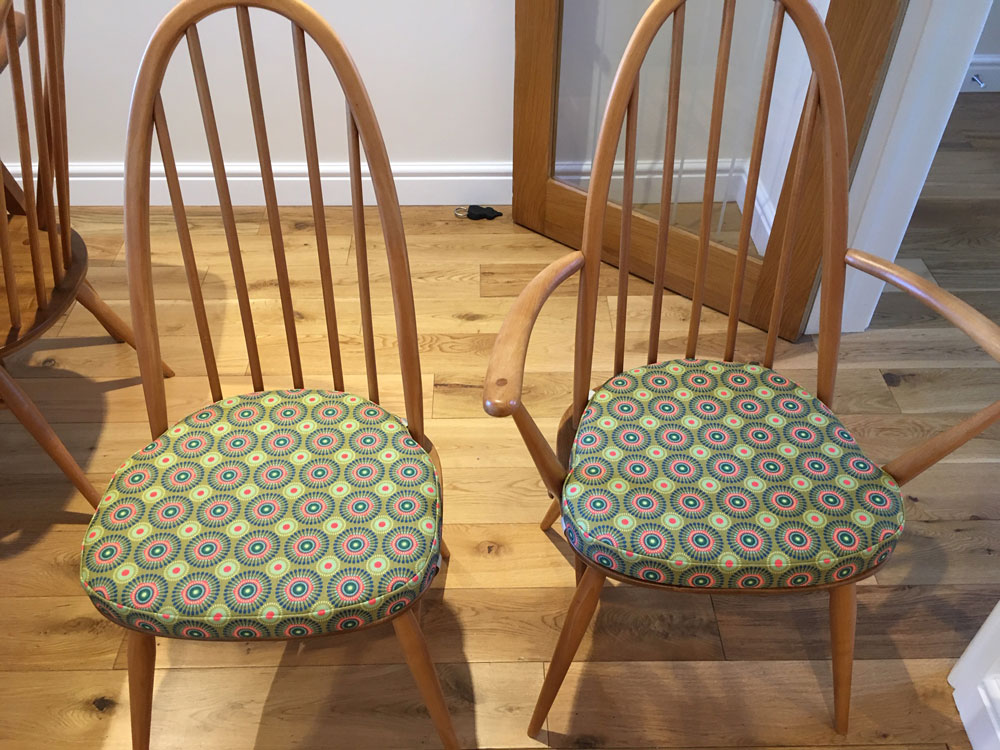 "Hi Chelsea, Just to let you know that the seat pads and material have arrived. Delighted with them, please pass on our thanks to everyone."
Ali Gadd
Somerset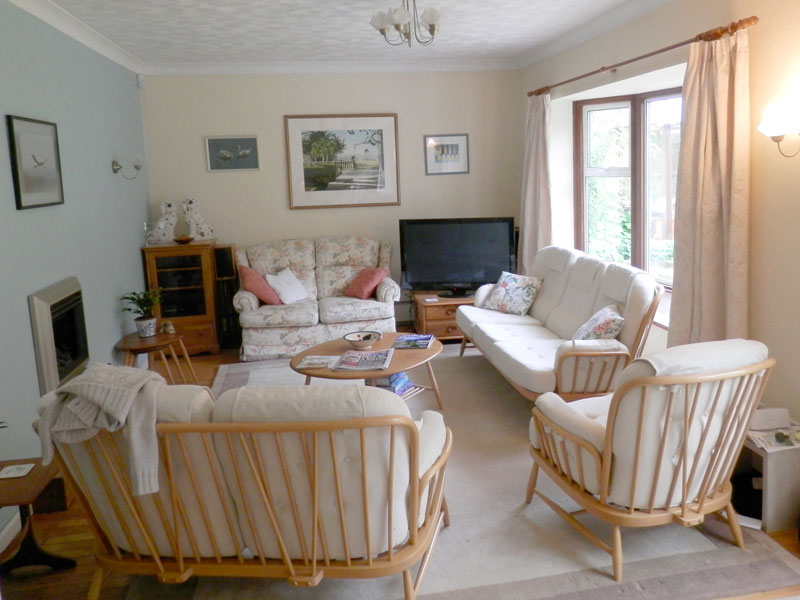 "Letting you know our new Ercol Cushions and Covers arrived home safely today and we are very pleased with them. Please let your team know we are very grateful for all their hard work. Here are some photos (shown above) which show the completed chairs in all their glory!"
P & M. Dickinson
West Sussex
"We have recently received our Ercol furniture cushions back and would like to show you pictures. We are absolutely delighted with your work. The colour is amazing, a teal colour with patchwork details on it. This is the ladies chair and High Back chair and they're lovely."
Mrs Broughton
Norfolk
"Just wanted to write to say a huge thank you for all your hard work on our Ercol cushions. I cannot fault: Your helpful staff on the telephone and over the internet/email; Your efficiency in dealing with any questions; The promptness of the collections and deliveries; The strength of the sellotape provided!; The brilliant packaging on delivery; Finishing in time for Christmas! We are both really pleased with the result and wish we had done this a long time ago! The seats are now really comfortable. THANK YOU TO ALL YOUR STAFF IN AND OUT OF THE WORKSHOP, YOU ARE STARS!"
Wendy and Colin Graves
Somerset
"Just a quick note and a couple of photos of the cushions you recently did for our old Ercol chair. Totally brought it back into everyday use! Looks excellent we feel and very pleased with quality of the work, the comfort and the hassle-free turn around."
Jenny Clark
Devon
"Many thanks for your great service, more than happy with the way they look!"
Sandra Thurston
Inverness-Shire
"I am absolutely delighted with my Ercol cushions. I attach a photo for you to see just how good they look in my newly-built log cabin. Many thanks once again and best wishes."
Anne Fort
Surrey
"Dear Bristol Upholstery Team, Absolutely delighted with the new cushions, beautifully made, perfect fit."
Helga Smith
Solihull
"Here are a couple of photos (above) of the chairs you upholstered for us. Please use them as you see fit. My wife and I are agreed that you have done a wonderful job on them and we are very pleased. Send our thanks to all those involved with the repair."
Ken & Pip Morris